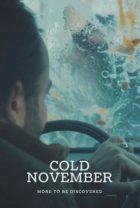 Premiere of "Cold November"
Tuesday, April 16, 2019 8:00 pm
Event hosted by: COLD NOVEMBER Production Team
Reserve Tickets
For one night only "Cold November" – a film by Ismet Sijarina will premiere in New York City.
Set in Kosovo in early 1990's, FADIL an archivist finds himself in a difficult situation, he has to choose between two options, being aware that both of them are wrong. As a consequence of his decision Fadil involuntarily and unwillingly, swallows' the shame, endures the pressure coming from all sides.
Click here for more information and tickets.