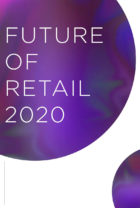 PSFK Future of Retail 2020 Conference
Wednesday, January 15, 2020 8:15 am
Reserve Tickets
The Future of Retail 2020: A New Decade of Opportunity
Right product, right price, right connection, right time, right place
An investigation into how advanced mix of data, delivery logistics and connected technology is powering a hyper-personalized retail experience that has the objective of anticipating and providing exceptional service.
Each year, PSFK's Future of Retail 2020 conference highlights the need-to-know ideas and innovations driving successful commerce today. Featuring insights from experts both at emerging start-ups and leading corporations, this half-day program will explore how the best retailers and brands will play to, meet with, expect, serve and reward each of their customers in this new decade of retail innovation and opportunity.
Click here for more information and tickets.