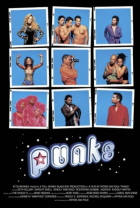 "Punks" Screening with WNYC Studios' "Nancy"
Wednesday, May 30, 2018 6:30 pm
Reserve Tickets
SVA Theatre, NewFest, and WNYC present a special screening of "Punks" (2000), directed by Patrik-Ian Polk, on 35mm film, with special guests Kathy Tu and Tobin Low of WNYC Studios' "Nancy" podcast.
6:30pm: Pre-Screening Reception
7:30PM: Doors Open to Public
8:00PM: Film Begins
Celebrated for its candid and realistic depiction of African-American gay men, the groundbreaking Punks premiered at Sundance Film Festival in 2000 and won awards on the film festival circuit before becoming mostly undistributed and unavailable to see anywhere.
Focusing on four friends navigating the dating world to find their mythical Mr. Rights, this vivacious debut film from writer-director Patrik-Ian Polk is an outrageously spirited ensemble comedy with verve and wit. Unprecedented in the way it captures black gay life and romance, Punks also explores universal aspects of friendship in dynamic and surprising ways.
Join the co-hosts of "Nancy" from WNYC Studios, Kathy Tu and Tobin Low, for a rare 35mm screening of this rediscovered gem of queer cinema!
Q&A with director Patrik-Ian Polk to follow the screening.
Pre-Screening Reception tickets — almost sold out! — are $20 and include admission to a reception with "Nancy" co-hosts Kathy Tu and Tobin Low.  These tickets guarantee a seat for the film.
Free General Admission tickets:  This free community screening is a ticketed event, and a ticket is required for entry, but does not guarantee admission. Space is limited and will be allocated on a first-come, first-served basis.
For more info and tickets, click here.
Curious about the story behind PUNKS and Kathy's journey to rediscover the film? Listen to the Nancy episode here!