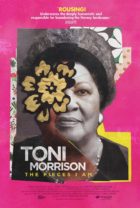 Reel Sisters Awards Ceremony & Toni Morrison: Pieces I Am Screening
Friday, October 11, 2019 6:00 pm
Reserve Tickets
Reel Sisters of the Diaspora Film Festival & Lecture Series will honor award-winning performance artist, author, and cultural activist Camille Yarbrough with the distinguished Reel Sisters Hattie McDaniel Award for her outstanding contribution to film, television, books and performing arts spanning six decades.
Reel Sisters will celebrate the evening with a screening and talkback of Toni Morrison: Pieces I Am to pay tribute to Ms. Morrison's legacy to artists and writers. Award-winning producer/actress Andrea Lewis (Degrassi: The Next Generation), Reel Sisters 2019 curator, will serve as the esteemed Mistress of Ceremonies for an exciting evening of fun, film and networking! Special guests and honorees TBA.
Click here for more information and tickets.