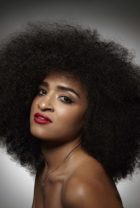 Reel Sisters Awards Ceremony
Friday, October 12, 2018 6:30 pm
Reserve Tickets
On Friday, Oct. 12, 6:30 pm, Reel Sisters of the Diaspora Film Festival & Lecture Series will honor award-winning filmmakers JT Takagi, the Executive Director of Third World Newsreel, and Terence Nance, creator of HBO's Random Acts of Flyness, with the Reel Sisters Trailblazer award for their outstanding contributions to the film industry. Jules And The Jinks, a winner of AfroPunk's 2018 battle of the bands competition, will pay tribute to our honorees.
The awards ceremony will be held at SVA Theatre, 333 West 23 St., in historic Chelsea. CBS correspondent Jericka Duncan will serve as Mistress of Ceremonies.
For information visit www.reelsisters.org.
Tickets: $45 or $35 (Bring a Pal discount).