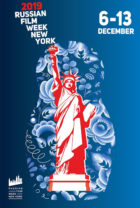 Russian Film Week 2019
Friday, December 06, 2019 -
Friday, December 13, 2019
Reserve Tickets
Russian Film Week in New York 2019, presented by the Cherry Orchard Festival (USA) and Studio Rock (Russia), will take place at SVA Theater December 6-13, 2019.
Russian Film Week USA 2019 is an annual showcase of both independent and artistic films that represents the dynamic landscape of Russian film-making today. The events will include film screenings, discussions and Q&As with renowned film directors, actors, and producers, panels with journalists, VIP receptions and public meet-the-artist events.
For more information and to purchase tickets, click the icon above or visit the Russian Film Week ticketing page.
Full festival details can also be found on russianfilmweekusa.com/.
Please call 800.349.0021 or email [email protected] should you have any questions regarding ticket sales.
SVA Theatre does not handle ticketing for this festival.