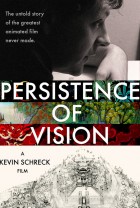 Screening of "Persistence of Vision"
Thursday, April 03, 2014
Silas Theatre
7:00 pm
"Persistence of Vision" returns to New York City for a very special FREE screening on Thursday, April 3rd, 7:00 PM at the SVA Theatre! Presented by the SVA Animation Department and ASIFA-East, this remarkable event will feature rare, newly-restored footage and a post-screening Q&A with director Kevin Schreck, moderated by renowned animator J.J. Sedelmaier (Saturday Night Live, TV Funhouse, Beavis and Butt-Head). Doors open at 6:30 PM, with seats available on a first-come, first-served basis, so don't miss it!
Striving to make the best animated film of all time, visionary and acclaimed animator Richard Williams (three-time Oscar-winning animator of "Who Framed Roger Rabbit") toiled on his masterpiece, "The Thief and the Cobbler," for nearly three decades — only to have it torn from his hands. Filmmaker Kevin Schreck has woven together mind-blowing animation, rare archival footage, and exclusive interviews with key animators and artists who worked with Williams on his ill-fated magnum opus to bring this legendary story to the screen. A tale of art, obsession, and dreams, "Persistence of Vision" is the untold story of the greatest animated film never made. RUNTIME: 83 min.
Free and open to the public. Seating is first come-first served.