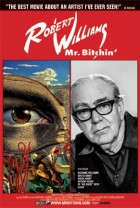 Screening of Robert Williams' "Mr. Bitchin'"
Friday, April 04, 2014
Beatrice Theatre
7:00 pm
Reserve Tickets
Robert William's Mr. Bitchin', a documentary film, delivers insight into multiple American counter-cultures by following the great American artist, underground legend and MoCCA Arts Festival Guest of Honor Robert Williams. From Hot Rods to Punk and Metal, from LSD to the top of the art world, the influential paintings of Robert Williams defied categorization until they became their own art movement.
A Q & A will follow with artist Robert Williams and Co-Director/Producer Nancye Ferguson, moderated by culture critic and curator Carlo McCormick.
TICKETS
$5 General Admission.  SVA students, faculty, and staff are free with ID.
Click the above ticket icon to purchase tickets.
About the Artist
In the late 20th and 21st centrury diverse forms of commonplace and popular art appeared to be coalescing into a formidable faction of new painted realism. The phenomenum owed its genesis to a number of factors. The new school of imagery was a product of art that didn't fit comfortably into the accepted definition of fine art. It embraced some of the figurative graphics that formal art academia tended to reject: comic books, movie posters, trading cards, surfer art, hot rod illustration, to mention a few.
This alternative art movement found its most congealing participant in one of America's most opprobrious and maligned underground artists, he painter, Robert Williams. It was this artist who brought the term "lowbrow" into the fine arts lexicon, with his ground breaking 1979 book, The Lowbrow Art of Robt. Williams. It was from this point that he seminal elements of West Coast Outlaw culture slowly started to aggregate.
Williams pursued a career as a fine arts painter years before joining the art studio of Ed "Big Daddy" Roth in the mid-1960's. And as this position as the famous custom car builder's art director, he moved into the rebellious, anti-war circles of early underground comix.
About the Co-Director/ Producer
Nancye Ferguson's unique creative talents as an internationally recognized performance artist, actor, producer, and director began during her attainment of a BFA Degree in Art at SDSU in California. As an actor Nancye starred in David Lynch's original comedy series On The Air for ABC, as well as features and television shows working with such directors as Blake Edwards, Paul Verhoeven and Michael Patrick King.
She conceived the quirky pop-rock band Visiting Kids and later Atomika, a production entity that's been focusing on creating and producing innovative, inspirational television and film projects. Along with Mark Mothersbaugh and Klasky Csupo (Rugrats), she created, starred in and produced What's in Heidi's Head.
Additionally through Atomika, she created and developed television and feature film projects for Disney, Fox, Fox Family, MTV, Lyon's Gate, Film Roman and others.
Her directorial debut, Flying with the Angels, won many awards at festivals in the United States and Europe. Robert Williams Mr. Bitchin' is her first documentary feature film.
About the Moderator
Carlo McCormick is a leading New York art writer, critic and curator. He is the author of numerous books, monographs and catalogs on contemporary art and artists, and has lectured and taught extensively at universities and colleges around the United States. His writing has appeared in Aperture, Art in America, Art News, Artforum, Camera Austria, High Times, Spin, Tokion, Vice and countless other magazines. He has curated shows for the Bronx Museum of Art, New York University, the Queens Museum of Art and the Woodstock Center for Photography. McCormick is Senior Editor of PAPER magazine.