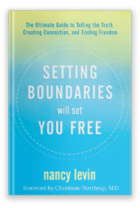 Setting Boundaries Will Set You Free with Gabby & Nancy
Thursday, January 09, 2020 7:00 pm
Reserve Tickets
Join Gabby Bernstein for a very special event with Nancy Levin!
During this personal and thought-provoking event, Nancy and Gabby will teach you the secrets to making yourself a priority and how to set boundaries that stick! This is the key to finding the freedom you've been waiting for.
Uncover the reasons you don't set boundaries, and learn the words you can use in any situation to express a boundary with confidence, peace and security. You will:
– Stop saying yes, when you mean no!
– Conquer codependency and give voice to your own needs
– Set healthy limits and maintain them in every area of your life
– Embody your empowered future as a boundary badass
A powerful Q&A to be followed.
Nancy's new book is Setting Boundaries will Set You Free: The Ultimate Guide to Telling the Truth, Creating Connection, and Finding Freedom.
Click here for more information and tickets.