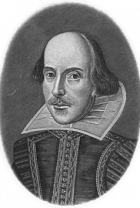 Shakespeare & The Jacobeans on Screen
Thursday, January 15, 2015
Beatrice Theatre
7:00 pm
Reserve Tickets
A collaboration between SVA Theatre, The Shakespeare Society, and Red Bull Theater.
The evening will focus on the relationship between Shakespeare and his darker, bloodier-minded Jacobean successors, in particular the great poet and playwright John Ford. Using film clips from Franco Zeffirelli's Romeo and Juliet, Orson Welles's Othello and a rarely seen BBC adaptation of 'Tis Pity She's a Whore, directed by Roland Joffé, we will reveal how Ford adapted and reworked Shakespeare's themes of violence, jealousy and desire in his own sinister, strangely hypnotic key.
FREE for Shakespeare Society Members — please contact 212-967-6802 to reserve.
FREE for SVA students, faculty, and staff — please present your ID at the door.  You may request up to two tickets per person.
Tickets are $35 for the general public.  Please click here or on the above ticket icon for tickets.