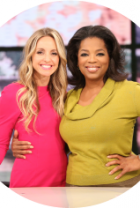 Spirit Junkie Masterclass with Gabrielle Bernstein
Friday, September 12, 2014 -
Sunday, September 14, 2014
Beatrice Theatre
Reserve Tickets
DO YOU FEEL CALLED TO SHARE YOUR SPIRITUAL PATH WITH THE WORLD?
ARE YOU A TRAINER, TEACHER OR HEALER?
Enrich your spiritual awareness and become a greater leader. Join Gabrielle Bernstein for the Spirit Junkie Masterclass, an immersive training weekend in New York City this September.
Gabrielle Bernstein has worked as a life coach, speaker, New York Times best selling author, and TV personality for nearly a decade, guiding people to awaken to their own authentic power and spiritual connections. She has built a successful and trusted multi-platform brand that allows her to reach millions with her powerful message.
Now Gabrielle is guided to teach coaches, healers, and spiritual teachers through her extraordinary SPIRIT JUNKIE MASTERCLASS certification program, a weekend training in New York City happening September 12th,13th, & 14th, 2014.
Spirit Junkie Masterclass is a one-of-a-kind program that helps teachers, coaches, and healers enrich their own spiritual awareness while guiding them to elevate their brands and become greater leaders in their practice and in the world.
About Gabby:
Gabrielle is the New York Times bestselling author of May Cause Miracles and her newest book, Miracles Now. She appears regularly as an expert on NBC's Today Show, has been featured on Oprah's Super Soul Sunday as a next-generation thought leader, and was named "a new role model" by the New York Times. She is also the author of the books Add More ~ing to Your Life, & Spirit Junkie. Gabrielle is the founder HerFuture.com, a social networking site for women to inspire, empower and connect.
Gabrielle has been on an international speaking circuit since 2004. She has presented lectures at Google, TEDxWomen, L'Oreal, Avon/mark. Cosmetics, Philosophy Cosmetics, Agape Spiritual Center, Integral Yoga, Kripalu, the Junior League, and universities nationwide, among many others.
Gabrielle is a certified Kundalini yoga and meditation teacher. She is also trained in the Emotional Freedom Technique and she's a student of Transcendental Meditation (as taught by the David Lynch Foundation).
Please click the above ticket link for information and tickets.