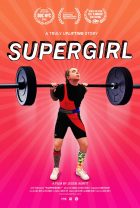 "Supergirl" Free Screening
Thursday, September 28, 2017 7:30 pm
SVA Theatre is pleased to present a special screening of the documentary Supergirl, directed by Jessie Auritt.
Synopsis:  When a nine-year-old girl breaks a powerlifting world record, she turns into an international phenomenon and "Supergirl" is born. Naomi Kutin seems like a typical Orthodox Jewish pre-teen, until her extraordinary talent transforms the lives of her family and thrusts her into news headlines. Supergirl follows Naomi's unique coming-of-age story as she fights to hold on to her title while navigating the perils of adolescence""from strict religious obligations to cyber-bullying, and health issues which could jeopardize her future in powerlifting. Can she still be "Supergirl" if she can no longer break world records? With a passionate family supporting her each step of the way, Naomi must learn to accept herself and discover she is as strong inside as she is outside.
A live performance by Supergirl's composers, Eliot Krimsky and Derek Nievergelt, will precede the film from 7:15PM-7:45PM.
A Q&A with the filmmakers will follow the film, moderated by Rose Vincelli Gustine, director of operations of SVA's MFA Social Documentary Film department.
This screening is free and open to the public.  No RSVP required.  Doors will open at approximately 7:00PM.