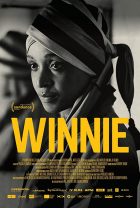 SWAN DAY 2018: Winnie
Saturday, March 31, 2018 1:00 pm
Reserve Tickets
Join NYWIFT, SAG-AFTRA, the School of Visual Arts BFA Film department, FF2 Media, ImageNation Cinema Foundation, Women in the Arts & Media Coalition (WAMC), African-American Women in Cinema (AAWIC), Women Make Movies (WMM), HerFlix and the SVA Theatre for a screening of the award-winning documentary Winnie by director Pascale Lamche in recognition of S.W.A.N. (Support Women Artists Now) Day, an annual event on the last Saturday of March that celebrates women artists. There will be a Q&A and reception following the screening.
Overview: Winnie Madikizela Mandela is one of the most misunderstood and intriguingly powerful contemporary female political figures. Her rise and seeming fall from grace, bear the hallmarks of epic tragedy. For the first time, this film pieces together and properly considers her life and contribution to the struggle to bring down Apartheid from the inside, with intimate insight from those who were closest to her and with testimony from the enemies who sought to extinguish her radical capacity to shake up the order of things. While her husband was kept, paradoxically, both safe and morally uncontaminated, in jail for 27 long years, Winnie rode the tumultuous violence of a life of struggle far from the safety of exile abroad, eyeball-to-eyeball with a seemingly immutable and vicious apartheid enemy controlling the country. Supremely controversial, Winnie is routinely represented as victim turned perpetrator. Her repeated demonization in the media has been amplified abroad to such a degree that the passionate respect she elicits among those who still struggle in South Africa, seems a paradox. And that's what intrigues us. How did this occur and more importantly, to what ends?
Writer/director Pascale Lamche is an award winning filmmaker who has made feature documentaries and series both as a writer/producer, and writer/director for key broadcasters internationally, and whose films have been premiered at many international film festivals including Edinburgh International Film Festival, Locarno International Film Festival, Dublin International Film Festival, Toronto Documentary Festival, FIPA Documentary Film Festival and travelled the world. Her selected filmography includes Stalingrad (2014), Black Diamond (2010), Pakistan-Zindabad (2007), French Beauty (2005), Accused No1: Nelson Mandela (2004) and Sophiatown (2003).
Moikgantsi Kgama (Moderator) is an audience development specialist with a reputation for excellence in her field. Her credits include: I Will Follow, Academy Award nominated Trouble the Water, Killer of Sheep and Lumumba, to name a few. She is also the founder of the ImageNation Cinema Foundation. A Harlem-based nonprofit media arts organization, ImageNation presents progressive media by and about people of color, with the goal of establishing a chain of art-house cinemas dedicated to these works. Through a variety of public exhibitions and programs, ImageNation fosters media equity, media literacy, solidarity, cross-cultural exchange and highlights the humanity of Pan-African people worldwide. ImageNation is currently developing its existing RAW SPACE Culture Gallery into a 60-seat, boutique cinema-café dedicated to Black and Latino film, music and culture. This social enterprise will be located in Harlem along the historic Adam Clayton Powell Blvd. Kgama's accolades include being named one of 25 Women Who Are Shaping the World by Essence Magazine, the Trailblazer Award from Reel Sisters Film Festival and a proclamation from the City of New York for her work with ImageNation. Kgama earned a BS in Newspaper Journalism from Syracuse University's Newhouse School of Public Communications. She serves as the Director of Communications at Harlem Congregations for Community Improvement, Inc.Kgama resides in New York City's Harlem community with her husband and partner Gregory Gates, and their son.
This event is free and open to the public.  RSVPs requested (click here), but not required.