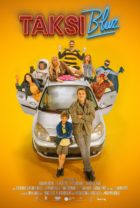 Taksi Bluz Screening
Friday, February 15, 2019 7:00 pm
Event hosted by: See Art Fusion Project
Reserve Tickets
TAKSI BLUZ (Taxi Blues) is a romantic comedy and at the same time it is a charming and exciting "road movie".
The main character of this story is Marko, a failed dramaturge who has been working for years as a taxi driver and whose adventures we will follow during a hysterical night. A seemingly normal day at work will turn into chaos when his friend Damir gets into his car who escaped from his home for uninhabited children and is searching for his father. The ride by the two of them in a taxi overnight will bring out a bunch of crazy situations.
Directed by: Miroslav Stamatov
Writers: Marko Backovic, Tatjana Ilic and Marko Jocic
This screening is open to the public. Tickets are required and available for purchase on this link or click the ticket icon above.
For more event details, please contact [email protected].