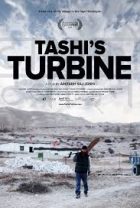 "Tashi's Turbine" Documentary Screening and Q&A
Sunday, September 17, 2017 5:00 pm
Reserve Tickets
As part of After School Special: The 2017 School of Visual Arts Alumni Film & Animation Festival, we are pleased to present a special free evening of documentaries, including the documentary feature Tashi's Turbine (2015) by Amitabh Joshi and Erik Spink (MFA 2013 Social Documentary alumni), followed by a Q&A with the filmmakers. The film will be preceded by the short documentaries Hali (2016) by Peter Hristoff (BFA 1981 Fine Arts) and Skull + Bone (2017) by Victoria Rivera (BFA 2011 Film and Video).  The Q&A will be moderated by current student Ana Montgomery Neutze (MFA 2018 Social Documentary).
Synopsis: Tashi Bista dreams to install a makeshift wind turbine in Namdok, a remote village nestled high amongst the Himalayas of Nepal. Namdok, battered by wind and cold has been in darkness for centuries. Wearing Ray Bans to shield his eyes from the dust and just a leather jacket to insulate him from the bitter cold he surveys the village. He grew up in this region without electrical power. He is determined to bring lights to Namdok in an effort to prove himself to the skeptical village community. Tashi's Turbine is a character driven film that shows the impact of one man's dream for light, in a village waiting for development.
The films shown at this event are not rated by the MPAA, and some material may be inappropriate for children under the age of 8. Children under the age of 5 may not be admitted.
…. And come early to enjoy virtual reality and music video experiences in the lobby.
Ticket Information
All After School Special festival screenings are free and open to the public. General Admission RSVPs via Eventbrite are appreciated, but not necessary, and do not guarantee admittance. Seating is on a first-come, first-served basis. Doors will open approximately 30 minutes prior to each screening.
If you would like to attend this event, but require assistive devices and/or accommodations, please email [email protected] or call 212-592-2980 at least one week prior.
Concessions Information
A limited amount of free popcorn and water will be offered at all screenings. Otherwise, concessions are not available for purchase at SVA Theatre. Guests are welcome to bring food and drink. Glass bottles and alcohol are not permitted.
Please contact [email protected] with questions. Guests subject to change.