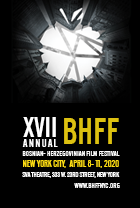 CANCELED – The 17th Annual Bosnian-Herzegovinian Film Festival
Wednesday, April 08, 2020 -
Saturday, April 11, 2020
Reserve Tickets
Due to COVID-19, this event is canceled / postponed.  Stay tuned for further updates.
The seventeenth annual Bosnian-Herzegovinian Film Festival (BHFF) will take place in New York City from Wednesday, April 8, through Saturday, April 11, 2020!
The BHFF promotes the diversity and breadth of Bosnia-Herzegovinian stories through film, and serves as a valuable link for members of the Bosnian diaspora in the New York City area to their heritage, while also exposing a wider audience to Bosnian culture. Over the years it has grown from a simple film revue event to a New York City institution. Since its founding in 2003, BHFF has screened about 175 feature length, short, documentary, and animated films before thousands of people, and is among the most anticipated European cultural events in New York City. Bosnia-Herzegovina is a multiethnic, multireligious country, and the BHFF's overarching mission is to counter the politics of exclusion through programming that brings unique Bosnian-Herzegovinian voices to current social and political debates in the U.S. and beyond.
Learn more about BHFF at https://www.bhffnyc.org!
Like us on Facebook! https://www.facebook.com/pg/BHFFNYC/
Follow us on Twitter! https://twitter.com/bhffnyc
Follow us on Instagram! https://www.instagram.com/bhffnyc/