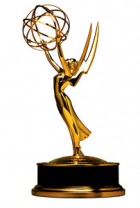 The 67th Annual Emmy Awards Live Screening
Sunday, September 20, 2015
Silas Theatre
8:00 pm
Reserve Tickets
As part of After School Special: The 2015 School of Visual Arts Alumni Film & Animation Festival, we are pleased to present a free screening of The 67th Annual Emmy Awards, hosted by Andy Samberg and broadcast via FOX live on the big screen.  Root on SVA alumni nominees and their nominated shows!
The Emmy Awards annually recognize excellence within various areas of television and emerging media.  This year's competing shows include Orange is the New Black, Game of Thrones, Transparent, Downton Abbey, House of Cards, Mad Men, Louie, Parks and Recreation, Veep, The Unbreakable Kimmy Schmidt, and Modern Family.
The Emmy Awards are rated TV-14.  Parents are strongly cautioned , some material may be inappropriate for children under 14, and children under the age of 5 will not be admitted.
To RSVP please click here or on the ticket icon above.
Ticket Information
All After School Special festival screenings are free and open to the public. General Admission RSVPs are appreciated, but not necessary. Seating is on a first-come, first-served basis. Doors will open approximately 30 minutes prior to each screening.
Concessions Information
A limited amount of free popcorn will be offered at all screenings.  Otherwise, concessions are not available for purchase at SVA Theatre.  Guests are welcome to bring food and drink.  Glass bottles and alcohol are not permitted.
Please contact [email protected] with questions.