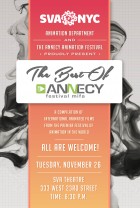 The Best of Annecy
Tuesday, March 17, 2015
Silas Theatre
6:30 pm
Come out and join us for a screening of short animated films from the Annecy Film Festival from France.
The festival showcases the most outstanding animation from all over the world created by professionals, students, and anyone else with a passion for animation.
Anyone interested in animation should attend to see some of the best work out there right now, and possibly submit something of your own for next year's festival.
The screening is free and open to the public.