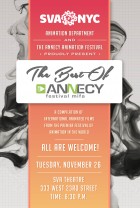 The Best of Annecy
Tuesday, November 26, 2013
Silas Theatre
6:30 pm
Come out and join us for a screening of ten short animated films from the Annecy Film Festival from France on Thursday, November 26th.
The festival showcases the most outstanding animation from all over the world created by professionals, students, and anyone else with a passion for animation.
Founder of the Animation department Reeves Lehmann will introduce artistic delegate for the festival Marcel Jean, who will then speak about the festival before screening the films.
This is only the second time the Annecy Film Festival has let their film festival shorts be screened in the United States.
Anyone interested in animation should attend to see some of the best work out there right now, and possibly submit something of your own for next year's festival.
The screening is free and open to the public.