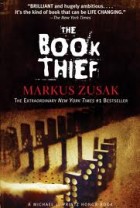 The Book Thief: A Conversation with Markus Zusak & Brian Percival
Sunday, November 10, 2013
Beatrice Theatre
2:00 pm
Event hosted by: Off the Page Events by Penguin Random House
Reserve Tickets
Based on the beloved bestselling book, THE BOOK THIEF tells the inspirational story of a spirited and courageous young girl who transforms the lives of everyone around her when she is sent to live with a foster family in World War II Germany.
A book signing with author Markus Zusak will follow and books will be available for purchase at the venue.
**Tickets are FREE but DO NOT guarantee admission.  Please arrive early the day of the event (doors will open at approximately 1:15pm) to guarantee your seat.  Once our physical capacity is reached we will not be able to admit any more ticketed guests.**
This event is being live broadcast and recorded for future use by Penguin Random House. By entering, you hereby consent to the use of your name, likeness and any statements you make by Penguin Random House and its licensees.
No outside photography, audio or video recording is permitted at any time during the event.