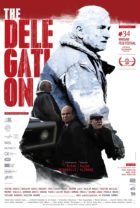 The Delegation – NYC Premiere
Tuesday, January 14, 2020 6:30 pm
Reserve Tickets
Opez Group invites you to the US premiere of The Delegation.
Come see this groundbreaking film from one of the premier visionaries of New Albanian Cinema.
The Delegation, set in Albania in 1990, under the oppressive Communist regime, professor and political dissident Leo (Viktor Zhusti) has spent 15 years behind bars…until one day, he is suddenly released…
Confused, Leo is escorted to Tirana by party official Spiro (Ndriçim Xhepa) and militiaman Asslan (Xhevdet Feri). The interim government, which quickly understood that being open towards the West was the new path to securing power, needs Leo to testify in front of a state visit of a European political institution. And thus begins a bumpy journey through the absurdist logic of regime change which Alimani fittingly represents through the metaphor of a broken car. Once the old engine of the ARO 244 breaks down, everything else begins to collapse with it…
Click here for more information and tickets.