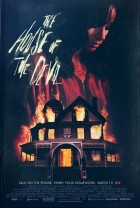 "The House of The Devil" Midnight Screening and Q&A
Saturday, September 19, 2015
Beatrice Theatre
11:59 pm
Reserve Tickets
As part of After School Special: The 2015 School of Visual Arts Alumni Film & Animation Festival, we are pleased to present a special midnight screening of the cult horror hit The House of The Devil (2009), shown on 35mm film, accompanied by a Q&A with director Ti West (BFA 2003 Film and Video) and producer Peter Phok (BFA 2003 Film and Video).  The Q&A will be moderated by current SVA student Amanda DiMartino (BFA 2017 Film).
Synopsis: College student Samantha Hughes takes a strange babysitting job that coincides with a full lunar eclipse.  She slowly realizes her clients harbor a terrifying secret.  Starring Jocelin Donahue, Greta Gerwig, and Tom Noonan.
The film will be preceded by the world cinematic premiere of The Hate My Day Jobs' music video Double Vision (2015), by creative director Daniel Giachetti (BFA 2002 Advertising) and alumni from the BFA Illustration and BFA Photography departments.
The House of The Devil is rated R.  Parents are strongly cautioned , some material may be inappropriate for children under 17, and children under the age of 12 will not be admitted.
To RSVP please click here or on the ticket icon above.
Ticket Information
All After School Special festival screenings are free and open to the public. General Admission RSVPs are appreciated, but not necessary. Seating is on a first-come, first-served basis. Doors will open approximately 30 minutes prior to each screening.
Concessions Information
A limited amount of free popcorn will be offered at all screenings.  Otherwise, concessions are not available for purchase at SVA Theatre.  Guests are welcome to bring food and drink.  Glass bottles and alcohol are not permitted.
Please contact [email protected] with questions.