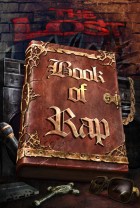 "The Lost Book of Rap" Special Screening
Friday, October 31, 2014
Silas Theatre
7:00 pm
Reserve Tickets
Little Feet Productions presents a special screening of  The Lost Book of Rap: Hip-Hop's First Family Epic Film
1988 Brooklyn, NY | The Golden Age Of Rap – The young aspiring rapper, Charisma Scott, must find The Lost Book Of Rap!  When she loses her father's prized gold chain in a rap battle against her rival Mocca, her siblings convince her to journey from Brooklyn to the Bronx to find The Lost Book Of Rap.  She must go to the Bronx, find The Lost Book Of Rap, battle Mocca in a rematch, win back her Father's chain and get home, ALL before her mom returns!
For tickets and more information, visit http://thelostbookofrap.com/.