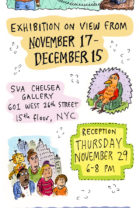 The Masters Series: Roz Chast
Wednesday, November 28, 2018 7:00 pm
Reserve Tickets
School of Visual Arts will honor illustrator Roz Chast with the 30th annual Masters Series Award and Exhibition. "The Masters Series: Roz Chast" will be a comprehensive retrospective of her celebrated career and include never-before-seen cartooning and illustration work, selections from her more than 20 books, a new hand-drawn mural, notebooks Chast kept in high school, embroideries, hooked rugs and hand-dyed pysanky, or Ukrainian-style Easter eggs. The exhibition will be on view from November 17 through December 15, 2018 at the SVA Chelsea Gallery, 601 West 26th Street, 15th floor, New York City.  An opening reception will be held at the gallery on Thursday, November 29, 6:00 , 8:00pm. The exhibition and opening are free and open to the public.  RSVPs not accepted or required.
In addition to the exhibition, SVA will host an artist's talk with Chast on Wednesday, November 28, 7:00 , 9:00pm, at SVA Theatre.  This event is also free and open to the public.  RSVPs are not accepted or required.  Doors will open at 6:30PM.
Chast's work has appeared in numerous magazines through the years, including The Village Voice, National Lampoon, Scientific American, Harvard Business Review, Redbook and Mother Jones, but she is most closely associated with The New Yorker. In addition to hundreds of cartoons and illustrated essays, she has created some 10 covers for the publication, and her nervous sense of humor and energetic style has become intrinsic to its identity.
For additional details, please click the icon above or visit this link.