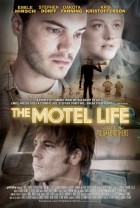 Advance Screening of "The Motel Life"
Wednesday, November 27, 2013
Beatrice Theatre
6:30 pm
Event hosted by: SVA Theatre
SVA Theatre presents a free screening of the new film, The Motel Life, starring Emile Hirsch, Dakota Fanning, Stephen Dorff and Kris Kristofferson. Based on the debut novel by musician and writer Willy Vlautin, the film tells the story of two brothers whose lives are thrown into turmoil following a tragic accident. Directed by Alan and Gabe Polsky, the film, which won the Audience Award at the 2012 Rome Film Fest, will be released nationwide on Friday, November 8, so catch it at SVA Theatre before everyone else!
The Motel Life runs 85 minutes. Food and drink (except those in glass containers) are permitted in the theater.
This event is free and open to the entire SVA community and the public. Feel free to bring friends!