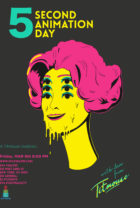 Titmouse Presents 5 Second Animation Day 2020
Friday, March 06, 2020 8:00 pm
Reserve Tickets
5 Second Animation Day "" a Titmouse tradition, a day when Titmouse animators create whatever animated goodies have been floating around in their minds all year.
Titmouse is a full"service, award-winning animation production company. Its artist-run studios in Los Angeles, New York City, and Vancouver keep 500 of the most talented people in the industry (that are guaranteed 100% human) employed and pushing creative boundaries. School of Visual Arts alumni Chris and Shannon Prynoski founded Titmouse in Los Angeles. Known for series such as Venture Bros., Metalocalypse, Superjail!, Big Mouth and the feature film, Nerdland, Titmouse creates high-quality cartoons for all ages and interests.
Ticket Information
• Tickets are only available through Eventbrite and will not be on sale at the box office in advance of the event. They must be purchased through this website or via the Eventbrite app.
• Doors will open at approximately 7:30PM. Theatre seating is general admission.
• Your Eventbrite ticket — either printed or displayed on your smartphone — is required for entrance.
• If you are a student of any school, or if you are SVA staff or faculty, you may purchase up to two $5.00 tickets for yourself and a guest. Please ensure that you have a current, valid ID with you, as you may not be permitted to enter without it.
• All tickets are final sale. There are no refunds or exchanges.
Concessions Information
Concessions are not available for purchase at SVA Theatre. Guests are welcome to bring food and drink. Glass bottles and alcohol are not permitted.