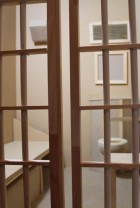 Tribeca Youth Screening Series
Tuesday, February 11, 2014
Beatrice Theatre
11:00 am
Herman's House (Registered Schools Only)
The injustice of solitary confinement and the transformative power of art are explored in Herman's House, a feature documentary that follows the unlikely friendship between a New York artist and one of America's most famous inmates as they collaborate on an acclaimed art project. In 1972, New Orleans native Herman Joshua Wallace (b. 1941) was serving a 25-year sentence for bank robbery when he was accused of murdering an Angola Prison guard and thrown into solitary confinement. Many believed him wrongfully convicted. Appeals were made but Herman remained in jail and""to increasingly widespread outrage""in solitary. Years passed with one day much like the next. Then in 2001 Herman received a perspective shifting letter from a Jackie Sumell, a young art student, who posed the provocative question: "What kind of house does a man who has lived in a six-foot-by-nine-foot cell for over 30 years dream of?" With compassion and meaningful artistry, Herman's House takes us inside the lives and imaginations of two unforgettable characters,forging a friendship and building a dream in the struggle to end the "cruel and unusual punishment" of long-term solitary confinement.
For more information about the film, please visit hermanshousethefilm.com.