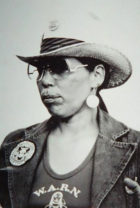 Warrior Women
Wednesday, February 20, 2019 6:30 pm
Reserve Tickets
Join NYWIFT and Vision Maker Media for a screening and reception for the upcoming documentary Warrior Women by Christina D. King and Elizabeth A. Castle. The directors and special guests Madonna Thunder Hawk and Marcella Gilbert will join the post-screening conversation moderated by producer Yvonne Russo.
Warrior Women is the story of Madonna Thunder Hawk, one such AIM leader who shaped a kindred group of activists' children , including her daughter Marcella , into the "We Will Remember" Survival School as a Native alternative to government-run education. Together, Madonna and Marcella fought for Native rights in an environment that made them more comrades than mother-daughter. Today, with Marcella, now a mother herself, both are still at the forefront of Native issues, fighting against the environmental devastation of the Dakota Access Pipeline and for Indigenous cultural values.
Through circular Indigenous storytelling, the film explores what it means to navigate a movement and motherhood, and how activist legacies pass from generation to generation under a colonizing government that meets Native resistance with violence.
Free and open to the public.  RSVPs requested, but not required.  Click here for more information and to register.