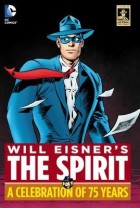 Will Eisner: "The Spirit" 75th Anniversary Celebration
Wednesday, November 11, 2015
Silas Theatre
7:00 pm
Event hosted by: SVA Alumni Society
Event hosted by: Will and Ann Eisner Family Foundation
Reserve Tickets
General admission $20; SVA student tickets $5. Students must present a valid SVA student ID at the door.  Click here or on the ticket icon above to purchase tickets.
The School of Visual Arts Alumni Society, in partnership with the Will and Ann Eisner Family Foundation, presents Pulitzer Prize-winning cartoonist and author Jules Feiffer, along with former publisher and president of DC Comics, Paul Levitz, discussing the legacy of pioneering comic artist and longtime SVA faculty member, Will Eisner. A Q&A and book signing will follow.
Proceeds from the event will benefit the SVA Alumni Society's Will Eisner Sequential Art Fund. Established in 2008 by the Eisner Family Foundation, the fund's scholarships support SVA students who work in sequential art, a term coined by Eisner to describe comics and graphic storytelling.
Jules Feiffer began his career working on The Spirit as an apprentice to Eisner. He went on to author the long-running comic strip Feiffer in The Village Voice, along with many books, plays and screenplays. As publisher and president of DC Comics, Paul Levitz published many of Eisner's graphic novels as well as all 26 volumes of The Spirit Archives.