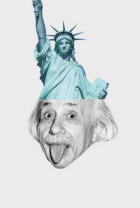 Zürich Meets New York: A Festival of Swiss Ingenuity
Monday, May 19, 2014 -
Friday, May 23, 2014
Beatrice Theatre
Zürich Meets New York: A Festival of Swiss Ingenuity
Festival runs from May 16 to May 23, 2014
The Zürich Meets New York festival highlights the contemporary relevance of visionary movements and ideas born in Zurich and their impact on American culture. Building on the upcoming 100th anniversary of the Dada movement and Zurich's role as a 21st-century hub for artistic and scientific innovation, the festival features 25 events at venues across the city, and is presented by the Consulate General of Switzerland in New York, the City of Zurich, ETH Zurich and the University of Zurich (UZH).
For a full list of events, visit
www.zurichmeetsnewyork.org
.
The following FREE events will take place at:
SVA Theatre
333 West 23rd Street
www.svatheatre.com
Free admission
****
Film Screening: Urs Fischer"‰/"‰The Art Foundry
Monday, May 19
7.30 p.m.: Urs Fischer
9.30 p.m.: The Art Foundry
Tuesday, May 20 & Wednesday, May 21
11 a.m.: Urs Fischer
1 p.m.: The Art Foundry
Urs Fischer by Iwan Schumacher
(Documentary; 98 min; 2010)
Combining pop immediacy with high-tech precision and a neo-Dada taste for the absurd, Zurich-born, New York-based artist Urs Fischer is world renowned for his room-size installations. The documentary was produced in conjunction with Fischer's first U.S. one-man show (New Museum, NYC).
Feuer und Flamme (The Art Foundry)by Iwan Schumacher
(Documentary; 84 min; 2014) U.S. premiere
Follow Urs Fischer, Katharina Fritsch, Peter Fischli and David Weiss to Kunstgiesserei St. Gallen, where their artistic visions are turned into spellbinding sculptures.
Presented by Zurich University of the Arts
*****
Panel: The Helvetica Code
Friday, May 23 at 11 a.m.
Where does Helvetica come from? Can a typeface determine how a culture is perceived? How can it be ubiquitous and invisible at the same time? These talks will follow Helvetica through the dark maze of its history and examine its promotion and role in the U.S. and the enormous impact of this small typeface on our lifestyle.
Jonas Vögeli, Visual Designer, Co-Founder and President, Hubertus-Design-Group
Thomas Wolfram, Typographer, Visual Designer, and Design Director Brand Identity, Wirz Corporate Zurich
Jonas Niedermann, Type Designer, Visual Designer
Presented by Zurich University of the Arts