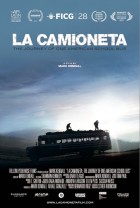 Screening of "La Camioneta" with Documentarian Mark Kendall
Saturday, September 20, 2014
Beatrice Theatre
8:00 pm
Reserve Tickets
As part of After School Special: The 2014 School of Visual Arts Alumni Film & Animation Festival, we are pleased to present a special screening of the award-winning documentary La Camioneta: The Journey of One American School Bus (2012), followed by a Q&A with filmmaker Mark Kendall (MFA 2011 Social Documentary), moderated by Daniela Alatorre (MFA 2015 Social Documentary).
Synopsis:  Every day dozens of decommissioned school buses leave the United States on a southward migration that carries them to Guatemala, where they are repaired, repainted, and resurrected as the brightly-colored camionetas that bring the vast majority of Guatemalans to work each day. Since 2006, nearly 1,000 camioneta drivers and fare-collectors have been murdered for either refusing or being unable to pay the extortion money demanded by local Guatemalan gangs. La Camioneta follows one such bus on its transformative journey: a journey between North and South, between life and death, and through an unfolding collection of moments, people, and places that serve to quietly remind us of the interconnected worlds in which we live.  For more info on the film and filmmaker, please visit www.lacamionetafilm.com and www.markkendall.net.
La Camioneta is unrated by the MPAA.  Some content may be unsuitable for children under 13.
To RSVP, or to purchase Festival badges, please click on the ticket icon above.
Ticket Information
All After School Special festival screenings are free and open to the public. General Admission RSVPs are appreciated, but not necessary. Seating is on a first-come, first-served basis. Doors will open approximately 30 minutes prior to each screening.
Festival Badge Information
A limited number of badges, which provide reserved seating at all After School Special festival screenings, are available for purchase through Eventbrite.
To guarantee admission to a screening, badge holders must be present in line at SVA Theatre at least 30 minutes prior to the scheduled screening start time. Badge holders must exit SVA Theatre following each screening and must re-enter for any subsequent screenings.
Badges can only be picked up at SVA Theatre (333 W 23rd Street, New York, NY 10011) during the following times: 5:30PM-8:00PM Friday 9/19, 11:30AM-11:59PM Saturday 9/20, or 12:30PM-5:45PM Sunday 9/21. They cannot be picked up in advance of the festival dates.  An ID and/or Eventbrite receipt (printed or on a mobile device) is required for pickup.
Badges can only be purchased online in advance of the screening.  They will not be available for purchase at the door.
Badges are final sale. There are no refunds or exchanges. They are not for resale and are non-transferable. Name changes are not permitted. Festival badges are intended for one person.
Concessions Information
Concessions are not available for purchase at SVA Theatre.  Guests are welcome to bring food and drink.  Glass bottles are not permitted.
Please contact [email protected] with questions.