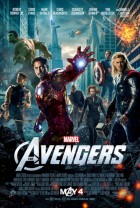 Screening of Marvel's "The Avengers" in 3D with Visual Effects Artists
Friday, September 19, 2014
Silas Theatre
8:00 pm
Reserve Tickets
As part of After School Special: The 2014 School of Visual Arts Alumni Film & Animation Festival, we are pleased to present a special screening of Marvel's The Avengers (2012) in 3D, followed by a Q&A and behind-the-scenes look at the film with members of the visual effects studio Hydraulx — Jeremy Butler and Joel Sevilla (both BFA 1999 Computer Art, Computer Animation and Visual Effects).  The Q&A will be moderated by current student Dan Dickheiser (BFA 2016 Computer Art, Computer Animation and Visual Effects).
Synopsis:  Nick Fury (Samuel L. Jackson) of S.H.I.E.L.D. assembles a team of superheroes — including Iron Man (Robert Downey, Jr.), The Hulk (Mark Ruffalo), Black Widow (Scarlett Johannson), Thor (Chris Hemsworth), Captain America (Chris Evans), and Hawkeye (Jeremy Renner) — to save the planet from Loki (Tom Hiddleston) and his army.
Marvel's The Avengers is rated PG-13.  Parents are strongly cautioned , some material may be inappropriate for children under 13.
To RSVP, or to purchase Festival badges, please click on the ticket icon above.
Ticket Information
All After School Special festival screenings are free and open to the public. General Admission RSVPs are appreciated, but not necessary. Seating is on a first-come, first-served basis. Doors will open approximately 30 minutes prior to each screening.
Festival Badge Information
A limited number of badges, which provide reserved seating at all After School Special festival screenings, are available for purchase through Eventbrite.
To guarantee admission to a screening, badge holders must be present in line at SVA Theatre at least 30 minutes prior to the scheduled screening start time. Badge holders must exit SVA Theatre following each screening and must re-enter for any subsequent screenings.
Badges can only be picked up at SVA Theatre (333 W 23rd Street, New York, NY 10011) during the following times: 5:30PM-8:00PM Friday 9/19, 11:30AM-11:59PM Saturday 9/20, or 12:30PM-5:45PM Sunday 9/21. They cannot be picked up in advance of the festival dates.  An ID and/or Eventbrite receipt (printed or on a mobile device) is required for pickup.
Badges can only be purchased online in advance of the screening.  They will not be available for purchase at the door.
Badges are final sale. There are no refunds or exchanges. They are not for resale and are non-transferable. Name changes are not permitted. Festival badges are intended for one person.
Concessions Information
Concessions are not available for purchase at SVA Theatre.  Guests are welcome to bring food and drink.  Glass bottles are not permitted.
Please contact [email protected] with questions.